Fashion Royalty Hub
Home Page
Veronique – Adele – Kyori – Vanessa – Natalia – Isha – Agnes
Eugenia – Luchia – Tatyana – Dania – Jordan – Elise – Monogram
Pierre – Francisco – Darius – Lukas – Takeo
Erin – Nadja – Colette –Ayumi – Giselle – Lillith – Eden – Kumi – Yuri
Hello FR Fan!
I started collecting the Fashion Royalty Dolls as soon as they came out.  I was instantly hooked; my collection consists of around 190 FR/HR dolls, All of the FR fashions, all HR non-basic fashions + almost all AGs & MZs, some DG, 4 poppys, 2 misaki, 4 Valias … I fell in love with FR because of their quality, detail and care; as well as Integrity's customer treatment.  The dolls are delightfully sculpted with detailed hands, fingers and real body lines, the older models have knee articulations, the newer models have 15 points of articulations.  The fashions are done to the last detail, with snaps, hooks, zippers, with tags; most are fully lined – Velcro and elastics are not used.   The dolls and fashions are carefully packed in special boxes, they come with hand numbered authenticity certificates and entertaining story cards.
            In this page you will find, the lasted gossip I can find in the gossip section.  The Reference Book section is an e-book (PDF format) written by myself about the Fashion Royalty line that covers every item up to date.  In the links you will find chat boards, dealers, stores and other personal web pages.  I have also done pictured checklists for the Dynamite Girls, Eve Kitten and Monsieur Z lines.   I plan to do them as well for Poppy & Hollywood Royalty as time permits.
            If you have any info, questions, suggestions feel free to email me.         Hope you enjoy this web site and find it useful!
Amanda
(mandy4384 / alhf4384
in chat boards and ebay)
My early FR Collection
<![if !vml]>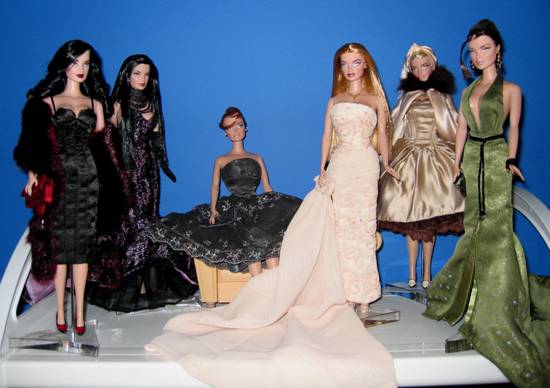 <![endif]>
Page Created:   February 28, 2004
Last Updated: October 15, 2009